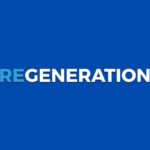 About Us:
Seven years ago — and with a healthy dose of delusional optimism — we founded ReGeneration with a vision to not only transform the lives of young graduates but to permanently change the trajectory of modern-day Greece by democratizing access to opportunity, creating agents of change from within and infusing the oxygen of possibility to a country on the verge of entrepreneurial extinction.
To date, ReGeneration has provided 510.000 training hours in cutting-edge technologies and career-readiness skills to young Greeks (51% female). Engaging 800+  hiring partners, ReGeneration has placed 2000 individuals in white-collar positions.
The decision to build ReGeneration as a non-profit was highly intentional. Our focus has always been on creating lasting social value, rather than capturing a momentary profit. We are a program built by underdogs, with a platform designed to make self-made success stories possible by equipping the next generation of professionals to offer Greece a new narrative of resilience, diversity and economic mobility. Fundamentally, we rise by lifting others.
About the role:
We are looking for a candidate who can join as Impact Development Coordinator or Junior Manager (depends on experience) working alongside the Impact Development Leadership and/or Co-founder to coordinate & develop ReGeneration's fundraising strategy as well as spearheading critical initiatives in research and business operations.
What you'll be doing:
Play an integral role in the coordination and development of strategy and planning of select partnerships with ReGeneration, which could include corporations, government, and/or civil society organizations
Take part in group brainstorming, and development of new ideas and proposals for funding in collaboration with Impact Development Leadership and/or Co-founder
Responsible for potential partner/donor research and analysis, collecting in-depth insight to further help leadership perfect new prospective proposals
Execute targeted communications to external parties to find potential new partners, and further strengthen proposal coalitions
Simultaneously support several accounts, to help ensure a smooth and constant running of pipeline for all tasks under each account, keeping in line with personal and department timelines and deadlines
Help liaise across departments, and be in constant communications and alignment with several teams, including but not limited to the Impact
Development Department, Project Management Department, and Business Development Department. Direct correspondence with the Impact
Development Leadership and/or Co-founder may be necessary too, including but not limited to seeking feedback for tasks
Maintain and update internal databases, consisting of resources and data, that must be intelligently incorporated into funding proposals and reporting
Responsible for contact list maintenance, in order for leadership to have easy access to all funding partners, donors, government contacts, etc. – in collaboration with the Executive Office Department
Responsible for all registration on platforms, tools, websites, etc. that are necessary to further fundraising efforts, including discreet maintenance of all passwords and other critical information – in collaboration with the Executive Office Department
Also responsible for new and recurring proposal submissions via various registration platforms, as well as keeping updated files on previous submissions
Responsible for developing and circulating the weekly fundraising bulletin of the organization, and ensuring that project-specific information across Departments is included
Support Impact Development Leadership and/or Co-founder with any potential assistance required, including but not limited to administrative, writing and editing, communications, etc.
Support on Strategic Initiatives:
Identify and analyze priority opportunities for creating sustainable strategic partnerships in the field of education technology and future-of-work:
Execute research projects vis a vis US-based prospect partner organizations
Perform in-depth research and analysis, and synthesize findings into compelling recommendations – according to topic and task
Pursue and develop highly challenging strategic initiatives in collaboration with Impact Development Leadership and/or Co-founder
Coordinate cross-departmental efforts in ReGeneration, to further best practices for innovation and new idea development
What skills and experience you will need:
Bachelor's degree in business, law, engineering, nonprofit management, communications, administration, or a related field
Minimum 2 years of experience in management/strategy consulting, start-ups, financial services, or international non-profit organizations
Experience in fund development, program administration, and/or project management would be considered as a plus
Robust experience in working in English speaking environments is a must
Strong functional knowledge of Microsoft Office, Google Docs, and an eye for optics and design
Passion for education and youth development
Self-awareness, self-motivation, and desire to learn are some of your biggest strengths
Excellent organizational skills embracing personal efficiency, time management skills, and the ability to prioritize competing demands
Strong business acumen, creative, self-starter, and ideal-team-play attitude—demonstrating humility, hunger, and people smarts
Astute and attentive "stakeholder first" mentality, exercising discretion, and excellent judgment in handling stakeholder engagements, confidential information, and balancing competing priorities to organization objectives
Ability to exercise a high degree of discretion and independent judgment
Cultural competencies working with diverse constituents, including but not limited to donors, institutional and corporate funders, and other stakeholders
Demonstrated ability to work, manage, and meet competing deadlines in a fast-paced and changing work environment
Ability to communicate clearly and effectively in both written and verbal, experience in writing formal and informal communications, and are comfortable with administrative work. You are able to translate complex content to key decision-makers and stakeholders.
You are a natural problem solver and an effective decision-maker.
What we offer you:
Competitive salary based on qualifications and previous experience
Flexible working hours
Remote working
A passionate team with a friendly, casual and collaborative culture
A genuine opportunity for personal growth and career development
Availability to start immediately