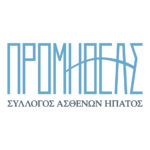 Communications Officer
The Hellenic Liver Patients Association "Prometheus" announces a hiring position of "Communications Officer", based in Athens, with a fixed-term contract of twelve (12) months and significant prospects for expansion and professional development. We are looking for a person with experience in the field of Communications, to be part of our passionate team for a part-time position. The main purpose of this position is to create and implement communications strategies that further our goals.
Part of Communications Officer's everyday duties will be managing the organization's communication plan and implementing dissemination strategies, through various channels, at national and international level.
Main duties and responsibilities
• Representing the organization and managing meetings domestically and internationally
• Managing and developing relations with stakeholders
• Elaborating policy documents in line with strategic decisions and institutional requirements
• Cooperating closely, on a daily basis, with the management team and the board of directors
• Managing Prometheus' digital platforms (social media, website)
• Managing Prometheus' e-mail (including the composition of our monthly newsletter) and ensuring that all interested parties are well informed.
• Collaborating and receiving guidance from colleagues, concerning the organization's communication strategy.
Required skills
• Graduate degree in Communications, Marketing, Business Administration, or in a relevant discipline.
• Excellent and engaging written and oral communication skills, both in Greek and English.
• Excellent computer and social media skills: Microsoft Word, Excel, Google Docs, PowerPoint, Facebook, LinkedIn, Google Analytics.
• Team spirit and analytical skills with an ability to think laterally in order to quickly identify new opportunities.
• Ability to prioritize and plan effectively in order to achieve goals and to consistently deliver reliable results within deadlines.
Desired skills
• Master's Degree in Communications or relevant field
• Prior working experience in a Civil Society Organization or familiarity with the Public Health Sector
• Minimum 2 years of experience in a similar position.
All applications will be treated as confidential.
Selection of candidates will be made with strict criteria related to the above text. Candidates' interviews will be conducted also digitally, via online meetings.
The deadline for submitting applications (exclusively through the "ngoHeroes" platform) is 15/09/2022.
CVs sent outside the platform will be excluded.